There are no Maverick pockets in Heaven......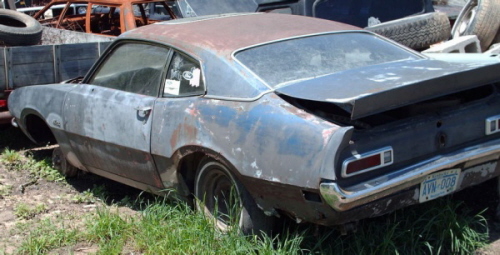 David Adams of Irving, KY submits this rather unique 1972 Grabber that he parted out.  Built in the St. Thomas assembly plant in Ontario, Canada, it came dressed in bright blue poly paint with white and gold stripes and a black vinyl top.  It was powered by a 302 V-8 and moved along by 2.79:1 rear axle gears.  Inside we would have found black deluxe woven vinyl bucket seats, a factory floor shift automatic, and an AM radio.  It was delivered to the Cincinnati, OH sales district where it was sold.  It looks like somewhere in it's lifetime somebody put a sunroof in this car.  David brought the car home and stripped it of all it's valuable and rare parts.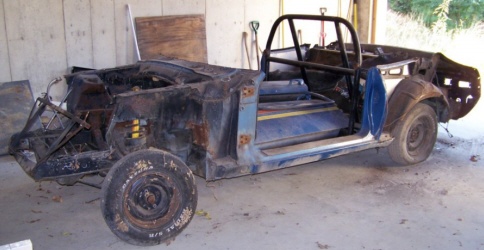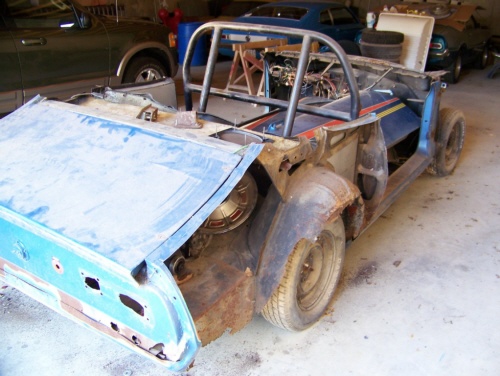 Ward Frahler from Elizabethtown, KY sent us these pictures of a Maverick in his garage.  You can't tell it now, but this car (or is that CARcass) started out life as a 1972 Ford Maverick Grabber.  I think the Maverick parts buzzards picked this one clean to the bone!!  They still may be hovering, as Ward tells me that the carcass has (2) 3 speed transmissions in the trunk.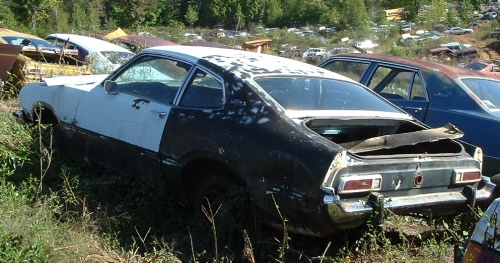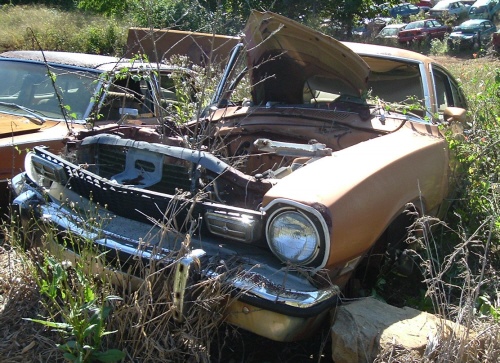 In a North Carolina salvage yard Morgan Butler found this 1973 Ford Maverick Grabber.  Factory 302 V-8 car with a column shift automatic transmission and a bench seat.  He said the rear spoiler was already removed when he found the car, but he found it in the trunk.  It appears to be a white car with green stripes.

Morgan Butler also found this 1975 Ford Maverick Grabber in the same North Carolina salvage yard.  He said it was a 6 cyl. Car with an Automatic transmission, a bench seat, and factory air conditioning.  It looks like somebody removed the passenger fender and "speared" it through the windshield opening. 

Morgan states that the salvage yard had about 13 or 14 Mavericks, but these were the only two Grabbers.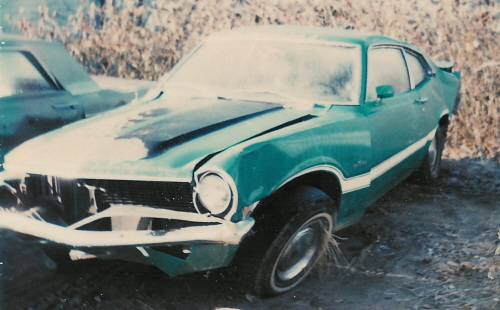 Here is a submission to Maverick Heaven from Bob Grambsch:

My first new car was a '70 Grabber Green my fiancé named Matthew Maverick. We drove it through the Grand Tetons and Yellowstone on our honeymoon August, 1970. We loved everything about it except for the gas mileage: 17-18 mpg on a good drive with a tail wind even though I seldom drove much over 90 mph and always was first off the line at the green lights in Madison. Love that "torquey 250" straight 6!!  Unfortunately, its other quirk, "slightly unstable drum brakes", contributed to Matthew's untimely death at 62,532 mi.  I braked and swerved slightly to avoid hitting a dog and he started fishtailing and flipped into the ditch.  We used the insurance to purchase Peter Pinto, a cool little dark green Squire wagon with disk brakes, 4 spd manual, and A/C.  We drove the Pinto for 7 years and 107,000 miles, until it rusted out and died of low oil.  Still love the old Fords; my son owns a '73 Mustang and I am driving a blue '07 Mustang Pony with the V-6 and white racing stripe. - Bob Grambsch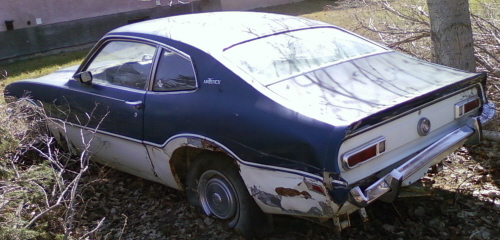 Mark Konecsni submitted these pictures and commented:  "Saw this 1973 Maverick Grabber just rotting away in small town Saskatchewan."

Looks like a 1973 Grabber, but really hard to tell without the VIN to identify it with.  It is blue with white stripes, has 302 V-8, Automatic transmission, manual steering, bucket seats, sport mirrors, and floor shift.  Lots of rare options, even for a standard Maverick.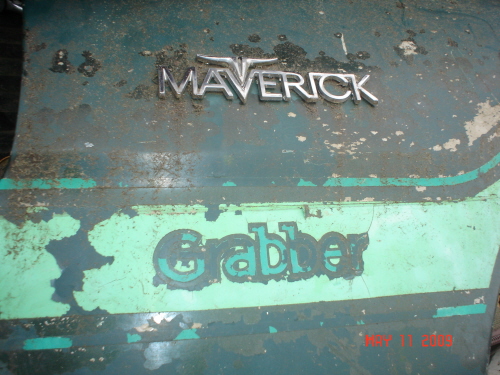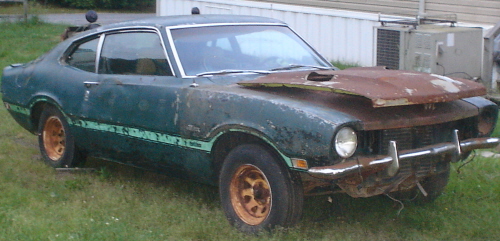 Here is a 1971 Maverick Grabber that gave up some vital parts to live on in another Maverick:

I found this sweetheart in a local trader book priced at $750, which was a good price.  I thought, after driving over 100 miles to look at it, I knew I was taking it home the minute I seen it.  The car has disc brakes, power steering, a/c, usable grabber hood plus a spare donor hood for patch panels, perfect rear deck lid and spoiler, nice driver door and (3) rust free fenders, plus (2) grabber grilles with (4) lights, bucket seats with consolette, (2) V8 cross members and mounts, and a trunk and back seat full of Maverick parts I have not went through yet.  The best part of this story is that after a couple of times of me saying I'll have to think about it and heading toward my truck, I dragged her home for $450, I kinda feel like i won the Maverick Lotto with this jewel.  I plan on using all the grabber parts on my plain solid 70 Granny Maverick and make a nice Grabber Clone. - Tim Jeffers