Stairway to Maverick Heaven...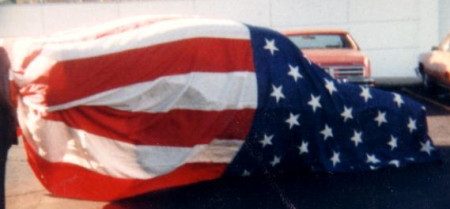 Bob Tackett's 1974 Ford Maverick. See the strory behind this car below.
This was my first car. It was sweet when I got it, but after time with the salt in the Chicago Heights, Illinois winters and a couple of accidents (neither my fault), it started looking a little worse for wear. Then the unthinkable, electrical problems started and that was enough. Even back then I knew this was a special car and had to give it a "proper burial". RIP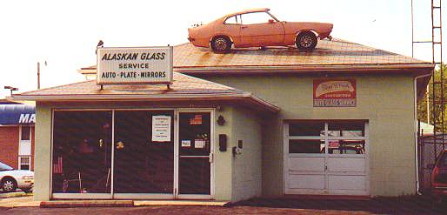 This is something you don't
see everyday....at least not
with a Maverick. Call this
one a Maverick Sacrifice!!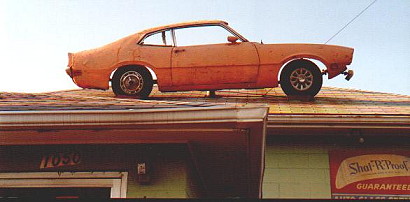 These pictures were submitted by Gene Laurent from Clarksburg, West Virginia. The location of this Maverick Sacrifice is Alaskan Glass Service, 1055 Harris Ave., Newark, Ohio. (Corner of Harris and 30th Ave.)
Talk about a great gift!! This 1971 Mercury Comet GT was given to Tim Jeffers in exchange for hauling a car 3 miles. It was a factory V-8 car with a 3-speed manual transmission with floor shift. It now sets rotting away in the northwest Georgia mountains. It looks like somebody tryed to "spray bomb" it black. Notice the rear bumper guards as well.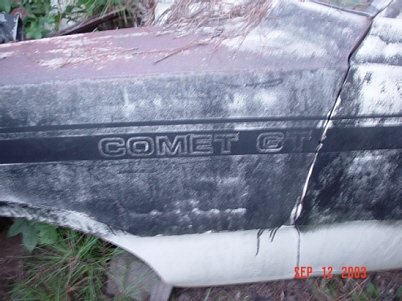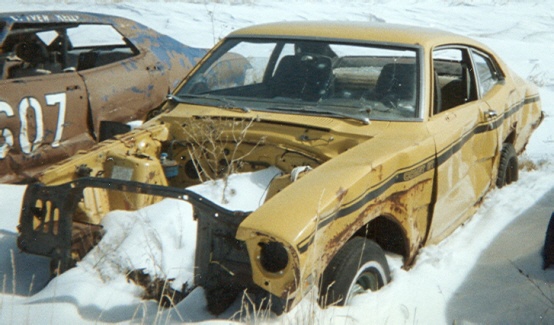 These next "angels" were submitted to Maverick Heaven by Mike Ramshaw from Regina, SK - Canada.
This is a 1972 Mercury Comet GT that was located in Bienfait, SK - Canada. It was in a guy's personl junkyard. Notice the standard bucket seats still in place.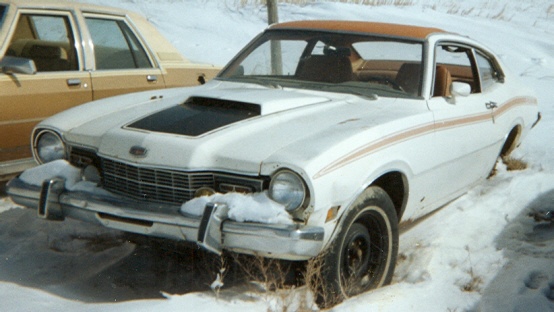 This 1973 Mercury Comet GT was also located in the same personal junkyard. Note the black stripe on the hood, but orange stripes on the side to match the orange vinyl halo top. Looks to have an orange bucket seat interior as well.
Mike tells us that both cars have since been crushed because kids were vandalizing them.
Mike also submitted the picture below of his 1972 Mercury Comet GT. Mike writes, "This car is at my farm in Nokomis Sk. CA., but is in the field with a bunch more of our old cars. I remember this one from when I was about 3. It started my interest in these cars. Grandpa took out the rear end with a cutting torch, then later that night there was flames coming from the field." So long to that parts car!!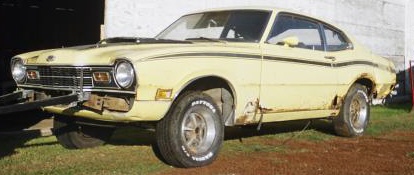 Below is also Mike's Comet GT...a 1973 to be exact. He also bought it for a parts car.
With all of Mike's Comet GT's....I might need to change the name of this website to
Maverick/Comet Heaven!!